Fuat Sezgin: A Wanderer on the Trail of a Lost Civilization
We are presenting an assessment of Prof. Dr. Kudret BÜLBÜL Dean Faculty of Political Sciences at Ankara Yıldırım Beyazıt University regarding the matter...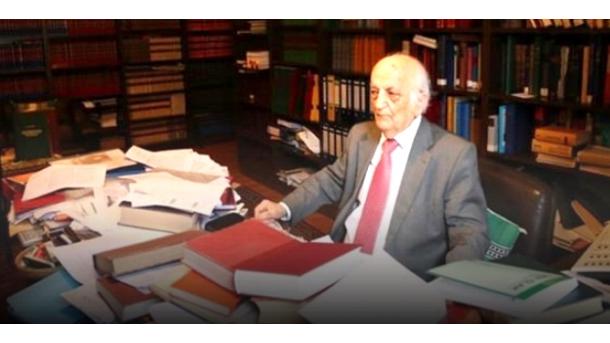 GLOBAL PERSPECTIVE / 27
We lost a scholar Prof. Dr. Fuat Sezgin this week at 94 who devoted his life to the contributions of Muslims to modern sciences. The accomplishments he squeezed into 94 years of his age and heritage he left behind him are more than the accomplishments and heritages to be left by a few people throughout their lives. Fuat Sezgin constantly worked his whole life like a clock and when the clock suddenly stopped for the first time he passed away.
What does distinguish this great scholar?
A journey from Bitlis to the World…
Fuat Sezgin was born in 1924 in Bitlis. He received his basic religious knowledge and initial Arabic education from his fahter who was a former district Mufti. He continued his academic career at Istanbul University's Institute of Oriental Studies (Şarkiyat) of the Faculty of Letters after 1943. Here he was acquainted with German Orientalist Helmutt Ritter.
Sometimes a good emerges from an evil..
While Professor Fuat Sezgin was continuing his academic Works he was expelled from the university like many other scholars following the 1960 military coup. His only crime was that his brother was Provincial Chairman of Democratic Party. Prof. Sezgin was left jobless and helpless while he was just a 36 year old academic. However, like always new doors open in the World for the honest, hardworking and productive people when all doors are shut on them in their own countries. Years later when Prof. Fuat Sezgin met the military officers who had expelled him from the university he thanked them and said: "I do not like your actions and politics. However I thank you. Because if you did not have expelled me from the university, I was not going to be able to perform my academic Works in Germany".
When all doors were shut on him, he received invitations from the United States of America and Germany. He preferred Germany due to easy traveling between Turkey and Germany. With his Works here, he is considered perhaps the most respectable scholar in the fields of Islamic Learning History and Learning History.
Were the Muslims missing in history?
When the life of Prof. Fuat Sezgin is observed, he is like an advance guard who tried to conquer the whole World in the field of learning. He constantly hustled from this library to that library. He worked only in the learning studies for tens of years without sparing his time for anything else. In his own words, most of the time his lunch used to be simply a piece of bread with a little bit of White cheese.
What did inspire Prof. Fuat Sezgin to constantly work with a superhuman effort? It was the respect he showed to knowledge and his academic acknowledgement throughout his career that is still valid in some circles: The Muslims do not have any contributions in modern sciences and the belief that the modern day science and technology is based on antique Greek and later developments in Europe. In his own words he faced this crooked belief in the first weeks of his primary school: "It was my second or third week after my primary school admission when our lady teacher was teaching us that the World was round and that the Muslim scholars believed that the World was carried by a bull on his horns. Being a poor child, how could I know that I would learn 30 years later that the Muslims had calculated the length of Ecuator upto 40 thousand kilometers as early as the 9th Century?"
With the Works he had devoted his life to, Prof. Fuat Sezgin very clearly proved the genuine contributions made by the Muslim scholars to natural sciences and several other technological developments. Besides genuine contributions of the Muslim scholars he also proved that the old Greek knowledge and philosophy was also transfered to modern ages because of the Muslim scholars.
Despite all that, life does not remain confined to history. The determination of Prof. Fuat Sezgin is very painful that the studies of many Western countries in the field of Islamic Learning History are more advanced than the Muslim countries. (http://fazlioglu.blogspot.com/2018/06/prof-dr-ihsan-fazlioglu-prof-dr-fuat-sezgin-ilebilim-tarihi-uzerine-soylesi-pdf.htm)
His personality, approach and contributions
Fuat Sezgin was fairly inspired by Ritter's views and working discipline. He had not even heard about some of the Great Muslim Scholars before they were mentioned by Ritter in their first encounter. When they started working together Ritter asked him how many hours did he work in a day. When Fuat Sezgin told him that he worked for 13-14 hours Ritter said "You cannot be a scholar with this little work". Later on when Prof. Fuat Sezgin got older his working hours never fell below 17-18. Therefore the first thing to be said of Prof. Sezgin's personality is his tireless and constant hardwork.
Another remarkable aspect of Prof. Fuat Sezgin is that unlike frequently seen in the recent centuries he never approached sciences and Islamic civilization over contrasts of the West or its values. Prof. Fuat Sezgin had a self confidence that the Muslim scholars used to have during the ages of their greater effectiveness. Therefore regardless of language, religion and ethnicity he behaved with an extremely great self confidence in exhibition of knowledge during his joint work with scholars and compilations.
Undoubtedly volumes over volumes of the Works of Prof. Fuat Sezgin on the contributions of the Muslim scholars to science and technology are extremely invaluable. Besides, Prof. Fuat Sezgin was not only a scholar but also a person who simultaneously founded a foundation and an institute (Arabic-Islamic Sciences History Institute in Frankfurt) for academic training in the field. He spent all of his fortune on this way. This was not enough therefore he founded Islamic Science and Technology History Museums in Frankfurt and Istanbul for further acknowledgement of the constributions of Muslims to science and technology.
Two Germanies
Germany has an extensive place in Prof. Fuat's life. First of all learning history owes a lot to Germany for opening its doors to him and giving him an opportunity when all doors were shut on him with the 1960 military coup. Prof. Fuat Sezgin very frequently expresses this gratitude. Germany acted with a great self confidence during those years and supported these works without being caught in any complex. Therefore Germany of those days must be appreciated. However the point reached by Germany today is far away from its old approach. A lawsuit was filed by Germany on the allegation that he had embezzled books after Prof. Fuat Sezgin decided to move his library to Turkey that he established totally on his own expenses. In the last years of his life his library in Germany was locked down and his entry into his own library was forbidden. Despite all that Prof. Fuat Sezgin made efforts that the matter is not politicized and avoided to take the matter to public. If only this incident is considered and the past and current behaviour of Germany with Prof. Fuat Sezgin is taken into account, it can be easily understood that due to recent negative change how Germany has gradually become an introverted country.
Turkish and Muslim World was not sufficiently aware of Prof. Fuat Sezgin till recent past. Because this World with some exceptions did not have enough knowledge of what it had lost within the last few centuries and what Prof. Fuat Sezgin had found. Prof. Fuat Sezgin departed from us with his Works and writings and lit a gigantic torch for the scholars of the whole World.
May he get his deserved place in Heaven.
We presented an assessment of Prof. Dr. Kudret BÜLBÜL, Dean Faculty of Political Sciences at Ankara Yıldırım Beyazıt University regarding the matter...
---
---